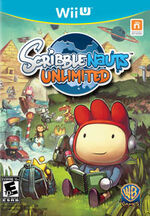 Scribblenauts Unlimited is the fourth Scribblenauts video game, including the iPhone Spin-off, and the prequel to Scribblenauts Unmasked. It was realeased on Wii U, 3DS, and PC in the fall of 2012. Saburo owns it on Wii U.
Locations
Edit
There are many locations where Maxwell travels.

Ad blocker interference detected!
Wikia is a free-to-use site that makes money from advertising. We have a modified experience for viewers using ad blockers

Wikia is not accessible if you've made further modifications. Remove the custom ad blocker rule(s) and the page will load as expected.